Vienna Composer Contest
Record your music at Synchron Stage Vienna and break into the world of production music!
20 years ago we released our first sample libraries and, to celebrate this anniversary, we're running a competition in collaboration with production music label 2nd Foundation Music. Prizes range from 12 x €500 Vienna Vouchers to 3 complete Synchron Packages, to a contract with 2nd Foundation Music who will release and distribute your six-track orchestral album, recorded at Synchron Stage Vienna.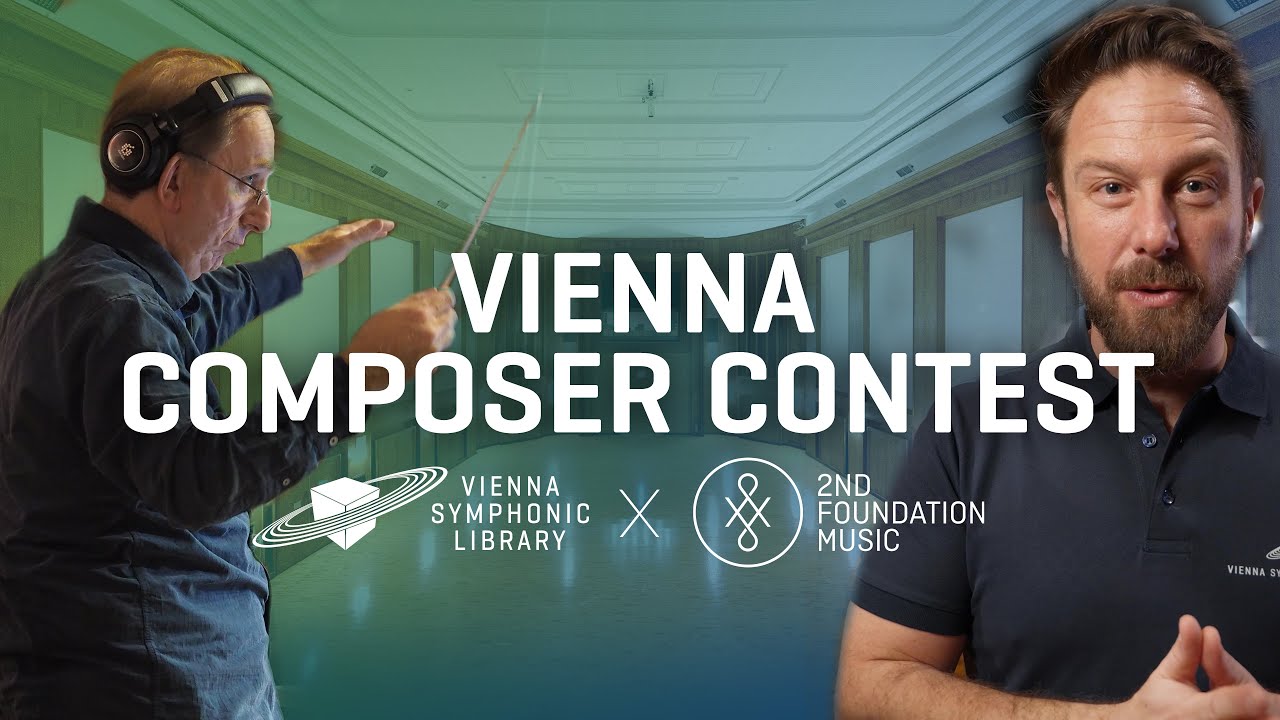 Please
log in
before signing up!
This competition is open to all composers looking to break into the world of library music, and whose work isn't already available through mainstream distributors (see full list below). There is no age limit, and you will work with our HELLO Free Instruments or demo licenses, so there's no requirement to purchase any product.


The Vienna Composer Contest is held in three rounds:
Round 1
February 1 - March 31, 2023
Show us what you've got and write 30 seconds of your best work, only using the sounds of our HELLO Free Instruments. We're listening out for musicality, creativity and originality. No additional effect plug-ins are allowed, but you can use the internal effects and capabilities of the Vienna Synchron Player to the full extent. Only one composition per participant is allowed.

Upload your files on this page before March 31, 12 pm/24:00 CET:
Required: mp3 (30 seconds, max. 192 kB/s, based on 48 kHz/24 bit project, no metadata)
Required: zipped DAW project file (e.g, Logic, Cubase, Pro Tools, Studio One, Sibelius, Finale, Dorico, etc. Project must be based on MIDI, don't include any audio files here.)
Optional: PDF score
You can upload each file only once. As soon as it's uploaded, you won't be able to remove or to replace it. Your uploaded files will be anonymized automatically so the jury members can't identify the creator.

Entries will be judged by a panel consisting of staff members and composers of Vienna Symphonic Library and 2nd Foundation Music, among them Herb Tucmandl, Martin Tichy, Guy Bacos, Daryl Griffith, Bradley Farmer, and Rhiannon Hitt.
Round 2
April 21 - May 31, 2023
Each of the 12 composers who will move on to the second round will receive Vienna Vouchers worth €500! In this round you will write a one minute piece of music to a brief by 2nd Foundation Music using a temporary license of the Synchron Prime Edition. You will receive professional feedback and advice from the label on your initial upload, and you'll be able to submit a second draft from these notes.
Round 3
June 1 - 30, 2023
Three finalists will go through to the third and final round and each will win a complete Synchron Package, worth more than €9,000. You will write an entirely new, full-length track using your Synchron Package and a temporary license of every library we have available, to a detailed brief by 2nd Foundation Music. At this stage you'll work closely with the label to hone your track. This will be a valuable opportunity to refine your craft, and give you further insight into the process of writing for library music.
Winner Announcement
July 1, 2023
The winner of the Vienna Composer Contest will sign a contract with 2nd Foundation Music and, with guidance from the label, go on to write a further five tracks to create a well-balanced, marketable EP. All six tracks will then be recorded at Synchron Stage Vienna, with 2FM creative director Daryl Griffith conducting the Synchron Stage Orchestra. Once released in the fall of 2023, the music will be available as library music with distributors throughout the world, including APM Music, BAM, BMG, Upright Music and Warner Chappell Production Music.
---
Further Details

You can only enter this contest if you do not have, or have never had, a total of more than 10 of your tracks represented within, or across, any of the following catalogs:
 
- APM Music
- Warner Chappell Production Music
- Universal Production Music
- Sony / EMI / KPM Production Music
- BMG
- Audio Network
- Anthem Entertainment
- Cavendish Music / Imagem / Ole / Boosey & Hawkes
- Sonoton
- BAM
- WestOne
- Extreme Music
- Megatrax
Ownership of Tracks

Composers own the rights to all their tracks written for the competition, with the exception of the six tracks written by the overall winner for the EP, which will fall under the terms of publishing with 2nd Foundation Music.

A brief summary of the contract is as follows (only applicable to the winning composer):

Once the tracks have been approved for recording, 2nd Foundation Music obtains the exclusive rights to them. As is standard for library tracks, you have no control over how or where they are used.
You will earn 33.3% of sync and mechanical royalties received by 2FM, and 100% of the writer's share of performance royalties
The contract only applies to the tracks that will be on the album and not any of your other work, past or future. You will not be tied into only writing for 2nd Foundation Music.
Click
here
to view the full contract. Only enter the competition if you are happy with the terms of the contract.
By signing up, you confirm that the works you will submit to the Vienna Composer Contest will be your original compositions and will not infringe any copyrights or any other rights of any third parties.
---
Vienna Symphonic Library and 2nd Foundation Music reserve the right to postpone rounds of the competition at any time they deem necessary due to unforeseen circumstances.

Semi-finalists, finalists and the winner will be notified by email, their works will be posted on the VSL website. The 12 semi-finalists will be asked to submit photos and to talk about the contest in online video interviews. Vienna Symphonic Library and 2nd Foundation Music shall have the right to display these photos and videos along with the submitted tracks on their websites and social media platforms.

Salaried and freelance employees of Vienna Symphonic Library and 2nd Foundation Music as well as of their respective distributors, and their family members and persons living in the same households of such employees, are not eligible to enter.

By signing up to this contest, you agree to abide by the rules stated on this web page and understand that you will forfeit any prize and/or benefit awarded to you should you violate any of these conditions.