Vienna Composer Contest
20 years ago we released our first sample libraries and, to celebrate this anniversary, we were running a competition in collaboration with production music label 2nd Foundation Music. Congratulations to winning composer Paul Cohen! He will sign a contract with 2nd Foundation Music who will release and distribute a six-track orchestral album, recorded at Synchron Stage Vienna.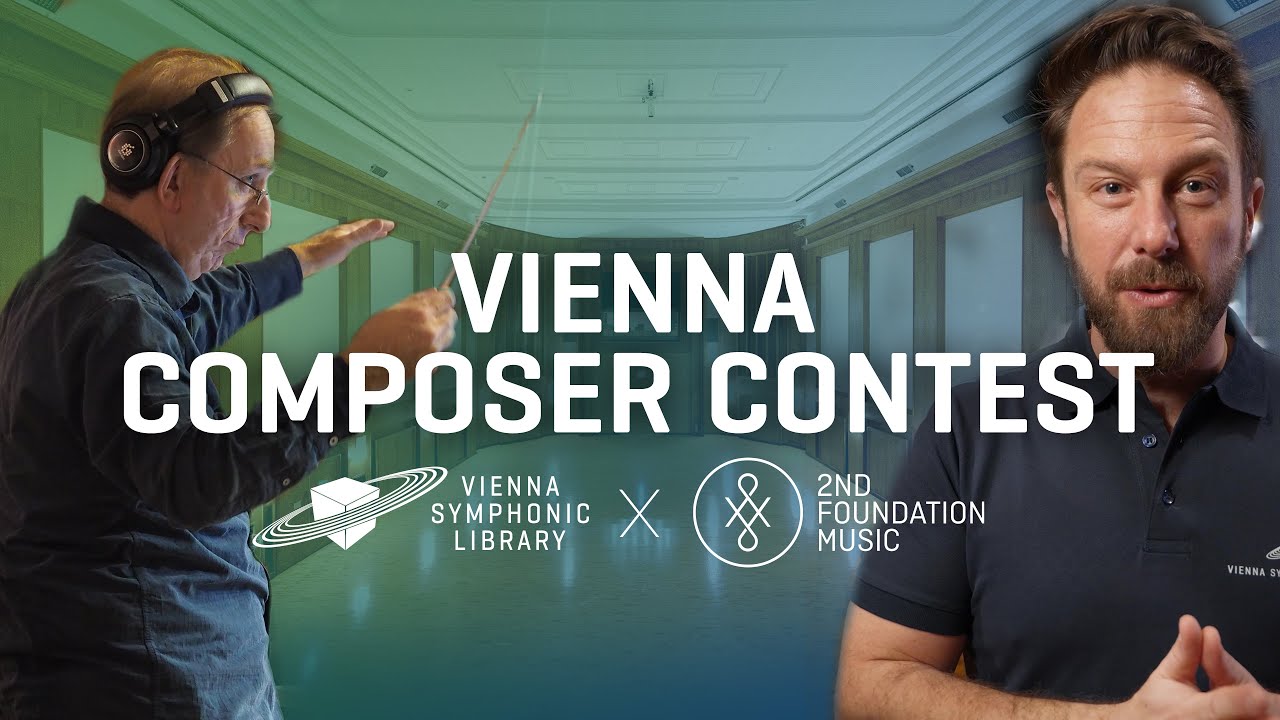 General Overview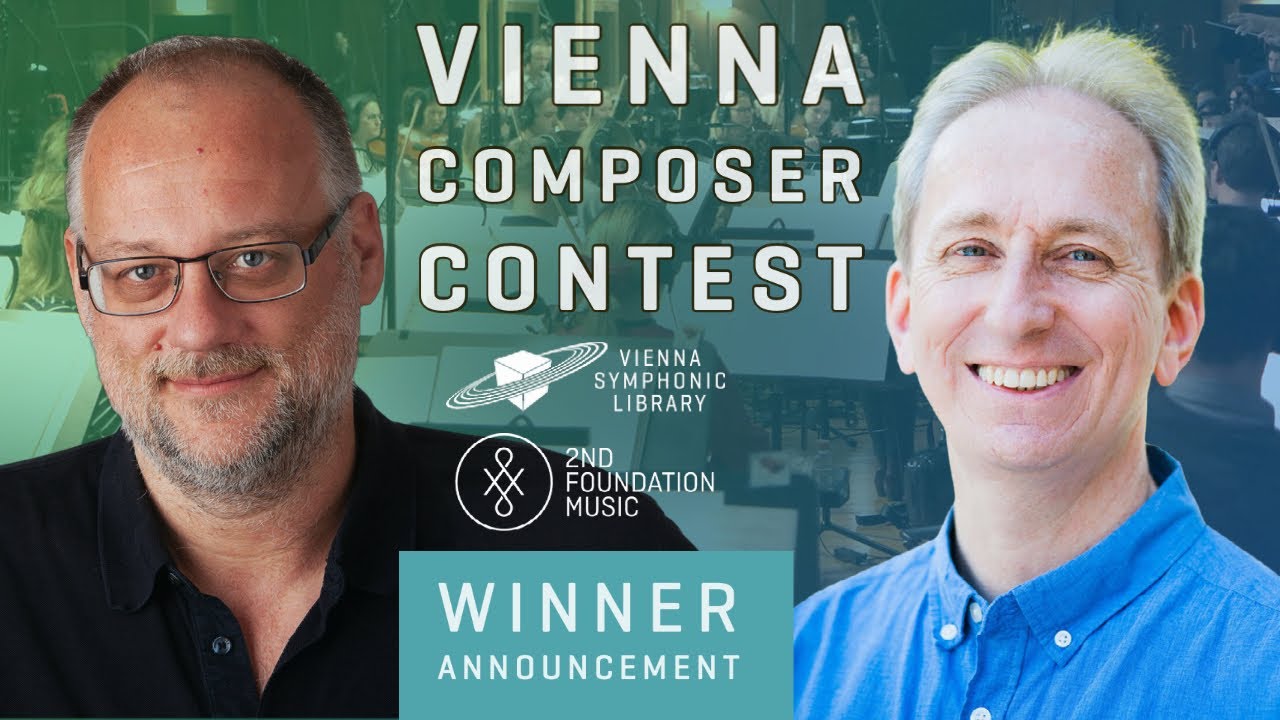 Winner Announcement
And the winner is:
Paul Cohen
Jury feedback on submission round 3: We were really impressed with Paul's track. It starts delicately with shimmering strings and harp, before we hear the noble theme on a horn for the first time. Soaring strings then take over as the theme becomes more exciting with each iteration. In the middle section, he weaves in fragments of melody, ramping up the anticipation with drums. The excitement builds with return to the main theme, which feels proud and majestic with the weight of the full orchestra behind it. The track is rounded off nicely with tumbling strings and harp into a proud brass fanfare and a final orchestral flourish.

The melody itself captures the essence of the cinematic fantasy theme, and Paul's orchestrations give a broad and timeless feel. He has structured the track into distinguishable parts - useful for making cutdowns in production music - yet these sections flow seamlessly together to make a cohesive whole track.

Paul asked lots of really good questions in the process of working on this track, and acted on all of the notes we gave him. As a result, the track is very strong both musically and commercially. We're really looking forward to working with him on the following five tracks, and can't wait to hear what the album sounds like recorded live at the Synchron Stage in Vienna!
| | | | | | |
| --- | --- | --- | --- | --- | --- |
| Paul Cohen, Round 1 Submission | | 0:30 | | | |
| Paul Cohen, Round 2 Submission | | 1:00 | | | |
| Paul Cohen, Round 3 Submission | | 2:22 | | | |
Paul Cohen is a composer, producer, and multi-instrumentalist hailing from central Pennsylvania. Born into a family of musicians, Paul began piano at age 4 and has delved into the realms of music and technology ever since, leading to degrees in commercial music (Messiah University) and computer science (Oregon State University) as well as additional studies in music business and technology (Berklee College of Music). A web developer by day, Paul has remained active as a performing musician and enjoys serving in his church's music ministry, where he plays piano, guitar, drums, and French horn and frequently arranges music.
Finalists
David Neumann
Jury feedback on submission round 2: At the start of this track, the shimmering strings and pensive flute immediately give a sense of intrigue as we discover the mysteries of the seabed. As the track progresses, frolicking dolphins are portrayed with a lilting woodwind tune and driving strings as the track gains momentum. We particularly enjoyed the pace of the build into the whale, which emerges with a powerful brass swell, soaring strings and wondrous orchestral colours. There's a shimmering undercurrent of sparkling celeste and tuned percussion throughout, which gives us a sense of the sparkling sea, and we truly feel like we've been taken on a journey as the track draws to a close.
| | | | | | |
| --- | --- | --- | --- | --- | --- |
| David Neumann, Round 1 Submission | | 0:30 | | | |
| David Neumann, Round 2 Submission | | 1:00 | | | |
| David Neumann, Round 3 Submission | | 2:43 | | | |
David Leonard Neumann, born in 1996, developed a passion for composition and arranging for various ensembles at a young age due to his music education in piano and drums. With the possibilities presented by digital music production he started experimenting with samples and sounds ever since he had a computer – especially in combination with film and media. Parallel to school education he was a student for music theory and composition at the conservatory in Frankfurt/Main. Currently, Neumann is studying music in Weimar as well as working as a conductor and arranger for choirs, and as a pianist for studio sessions.
Jack Gionis
Jury feedback on submission round 2: This track starts with some delicate sparkles and beautiful fluttering woodwinds, creating a feel of childlike wonder as we explore the minutiae of the sea. The track builds with subtle touches of woodwind counterpoint to a quirky and dazzling middle section that's filled with playfulness - perfect for the dancing dolphins. As we lead into the whale's entrance, the track gains more gravitas with sweeping strings, and opens out into a soaring yet tender theme with rich orchestration. When the whale swims away we hear a few glimmering touches to finish, which pull the whole track together and remind us of the aquatic journey. This was a really charming track that captured the joy of exploring a new world. 

| | | | | | |
| --- | --- | --- | --- | --- | --- |
| Jack Gionis, Round 1 Submission | | 0:30 | | | |
| Jack Gionis, Round 2 Submission | | 0:59 | | | |
| Jack Gionis, Round 3 Submission | | 2:37 | | | |
Jack Gionis (b. 1999) is a composer and instrumentalist based in London, UK. Finding a of love of orchestral music at a young age, Jack began writing his own music with sample libraries in his early teens. He spent a year with Aldeburgh Young Musicians before graduating from the Royal College of Music in 2021, studying composition with Errollyn Wallen. He has written for solo instruments, chamber ensembles, and full orchestra – for film, installation and the concert hall. He loves telling stories and bringing imagined worlds to life with sound. Some examples of his work can be found at www.jackgionis.com.
Semi-Finalists
Ádám Lipták
| | | | | | |
| --- | --- | --- | --- | --- | --- |
| Ádám Lipták, Round 1 Submission | | 0:29 | | | |
| Ádám Lipták, Round 2 Submission | | 1:00 | | | |
Ádám Lipták is a hungarian composer, piano player and orchestrator.
He got his Magister degree from Media Composition at the University of Music and Performing Arts Vienna in 2020. He studied three years at the Franz Liszt Music Academy in Budapest, where he got his Bachelor's degree for Applied Composition.
His greatest achievements so far are the 1st and 2nd place of the Wiener Filmmusik Preis (2017, 2016) and finalist on the Marvin Hamlisch International Music Awards. Ádám composed his first Double Piano Concerto and Choral Symphony in 2021-2022 and dedicated his pieces to the Los Angeles Youth Philharmonic Orchestra. Since 2021 he is a commissioned composer of the orchestra and prepares original compositions as well as orchestrations for them.
Angelo Bordieri
| | | | | | |
| --- | --- | --- | --- | --- | --- |
| Angelo Bordieri, Round 1 Submission | | 0:29 | | | |
| Angelo Bordieri, Round 2 Submission | | 1:00 | | | |
Born in Genova, Italy in 1971. Guitarist, composer. Since his adolescence he has been experimenting with composition and electronic music. He is preparing for the conservatory exams for the classical guitar course with Maestro Bruno Bertone and Maestro Ivano Ponte. He graduated with Alessio Menconi for the jazz guitar course, harmony and improvisation. He is the author of soundtracks for cartoons (Rai Fiction) and for video games (PC and Xbox). He won the "Premio degli Autori", the competition "Colonne Sonore 2022", Corti a Ponte -  International Short Film Festival.
Christopher Hallum
| | | | | | |
| --- | --- | --- | --- | --- | --- |
| Christopher Hallum, Round 1 Submission | | 0:29 | | | |
| Christopher Hallum, Round 2 Submission | | 1:00 | | | |
A native of Nashville, Tennessee, Chris Hallum is currently based in Athens, Georgia. He studied music theory and composition at Middle Tennessee State University and the University of Texas at Austin, and has composed music for film, large and small ensemble, as well as some fixed media and electronic music. Chris is obsessed with music technology and enjoys diving deep into the various ways musicians use software to create and learn music. Drawing musical inspiration from being outdoors, Chris also spends as much time as possible in the nearby Blue Ridge Mountains with his wife, two kids, and dog, Rosie.
Cooper Baldwin
| | | | | | |
| --- | --- | --- | --- | --- | --- |
| Cooper Baldwin, Round 1 Submission | | 0:30 | | | |
| Cooper Baldwin, Round 2 Submission | | 1:00 | | | |
Cooper Baldwin (he/him/his) is a composer, songwriter, arranger, and producer currently residing in New York City. Since 2021, he has participated in fellowships with the Los Angeles Film Conducting Intensive, the SCL, the Johnny Mercer Foundation Songwriters Project, and the Choral Arts Initiative, and has been awarded multiple honors for his original music, including first place in the 2022 Press Start Orchestras Composer Competition, the grand prize of the 2019 Capital Hearing's Young Composer's Contest, and the grand prize of the Cantate Chamber Singers' 11th Biennial Composition Competition. For more information about Cooper and his work, go to cooperbaldwinmusic.com.
Ferenc Bátri
| | | | | | |
| --- | --- | --- | --- | --- | --- |
| Ferenc Bátri, Round 1 Submission | | 0:30 | | | |
| Ferenc Bátri, Round 2 Submission | | 1:00 | | | |
I took my first steps toward music during my time in music school, and despite starting a career as a creative designer in advertising and marketing, I've been on a long musical journey ever since. I'm interested in composing symphonic music and scoring, creating in various electronic genres, and the sound design itself, and my dedication has only grown in recent years. I enjoy seeking out musical challenges and participating in competitions, and while I'm not sure whether I'll become a professional composer, I'm content with my current state and the freedom it brings.
Matthew Meyer
| | | | | | |
| --- | --- | --- | --- | --- | --- |
| Matthew Meyer, Round 1 Submission | | 0:30 | | | |
| Matthew Meyer, Round 2 Submission | | 1:00 | | | |
Matthew Meyer holds a B.A. in music composition from Whitworth University, where he graduated summa cum laude in 2020. In 2019, he had the privilege of hearing one of his compositions performed by the Whitworth University Symphony Orchestra after the piece had won the university's composition contest. Thanks in part to this experience, he is an unwavering orchestra enthusiast. He is also a baritone, and he sang for four years with the Whitworth University Choir, which toured in Spain in 2017. In 2023, he sang in the Seattle honors recital of the National Association of Teachers of Singing.
Michael Jarunek
| | | | | | |
| --- | --- | --- | --- | --- | --- |
| Michael Jarunek, Round 1 Submission | | 0:28 | | | |
| Michael Jarunek, Round 2 Submission | | 1:00 | | | |
Michael spent his early years on the premises of a music school in Germany where he began playing the piano and valve trombone. He has played the euphonium in a touring UK-based concert band, gained a BA (Hons) from the University of Nottingham, and edited sheet music for various musical forces.
Versed in both classical and jazz music, Michael enjoys lyrical composition and has written for professional instrumentalists.
Besides music, Michael holds a ProfGCE in adult education and is a keen table tennis and badminton player.
Oskar Gigele
| | | | | | |
| --- | --- | --- | --- | --- | --- |
| Oskar Gigele, Round 1 Submission | | 0:30 | | | |
| Oskar Gigele, Round 2 Submission | | 1:00 | | | |
Born in Vienna in 1994. Coming from a family of musicians, Oskar Gigele was exposed to music at an early age. In his childhood he was a soloist with the Vienna Boys' Choir, and he completed his school education with honors at the Musikgymnasium Wien, Neustiftgasse. After graduating from high school, he decided to study composition at the mdw with composer Iris ter Schiphorst. Since October 2022, he is studying film music composition with Judit Varga, at the mdw. He has composed for the Alma Mahler Philharmonic Orchestra, Joesi Prokopetz, Chorus Alea, the Hedenborg Trio, ...
Pawel Litwinczyk
| | | | | | |
| --- | --- | --- | --- | --- | --- |
| Pawel Litwinczyk, Round 1 Submission | | 0:30 | | | |
| Pawel Litwinczyk, Round 2 Submission | | 1:00 | | | |
I'm a composer from Poland. I graduated from music school as a horn player, but never studied music composition. So I usually did what felt right, and if it sounded "quite" good enough to me I would leave it at that. Everything is a long improvisation process, I'd say. :) I hear the music I want to write in my head and then try to do it. I love music in all genres, but especially electronic with orchestra. Till now I used to work as an arranger/composer and sometimes assistant for Tomasz Szymuś, one of the best Polish arrangers. Last year I was chosen as a second prize finalist in the international film music competition "Score relief 2022", and my track was played by a real orchestra in Manchester. That was incredible!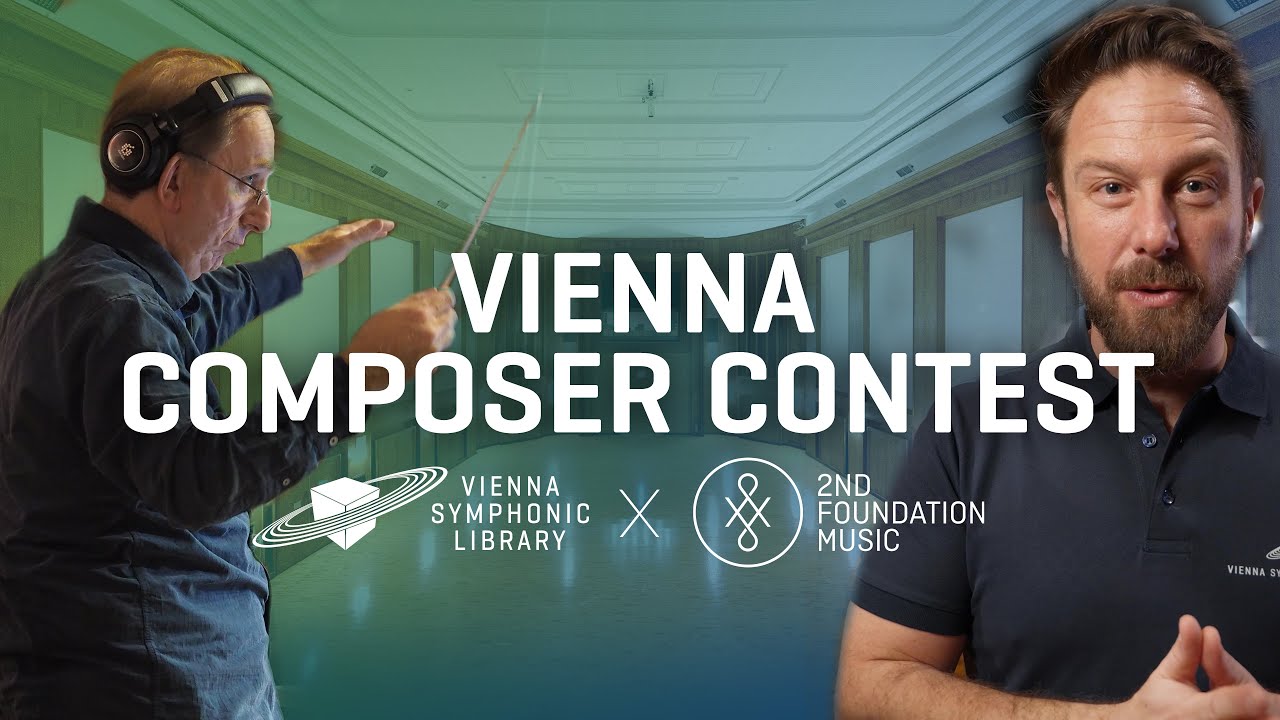 Announcement, Round 1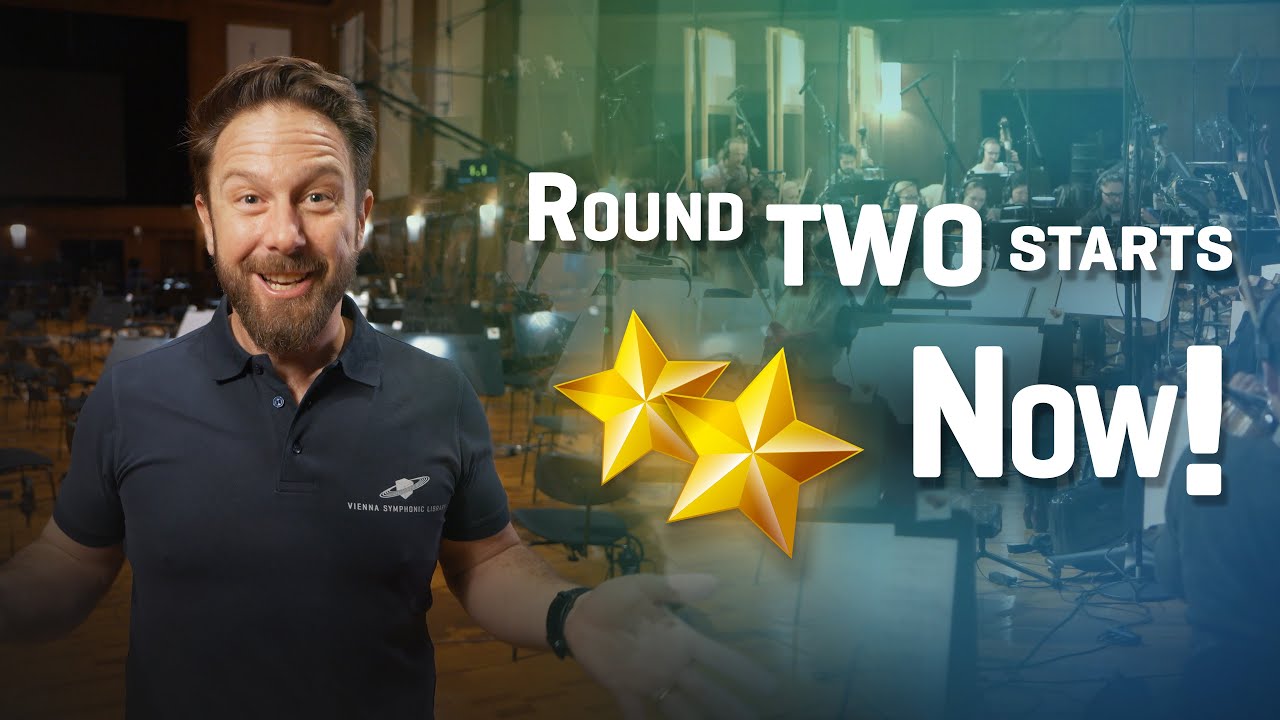 Semi-finalists, Round 2
The Vienna Composer Contest is held in three rounds.
Round 1
February 1 - March 31, 2023
Show us what you've got and write 30 seconds of your best work, only using the sounds of our HELLO Free Instruments. We're listening out for musicality, creativity and originality. No additional effect plug-ins are allowed, but you can use the internal effects and capabilities of the Vienna Synchron Player to the full extent. Only one composition per participant is allowed.

Upload your files on this page before March 31, 23:59 CEST / 9:59 p.m. UTC
Required: mp3 (30 seconds, max. 192 kB/s, based on 48 kHz/24 bit project, no metadata)
Required: zipped DAW project file (e.g, Logic, Cubase, Pro Tools, Studio One, Sibelius, Finale, Dorico, etc. Project must be based on MIDI, don't include any audio files here.)
Optional: PDF score
You can upload each file only once. As soon as it's uploaded, you won't be able to remove or to replace it. Your uploaded files will be anonymized automatically so the jury members can't identify the creator.

Entries will be judged by a panel consisting of staff members and composers of Vienna Symphonic Library and 2nd Foundation Music, among them Herb Tucmandl, Martin Tichy, Guy Bacos, Daryl Griffith, Bradley Farmer, and Rhiannon Hitt.
Round 2
April 21 - May 31, 2023
Each of the 12 composers who will move on to the second round recieves Vienna Vouchers worth €500! In this round they write a one minute piece using a temporary license of the Synchron Prime Edition.

Here is the brief by 2nd Foundation Music:

The assignment for the 12 semi-finalists is to write a 60-second track on the theme of underwater beauty that would be suitable for a sequence in a nature documentary. We are looking for a building track that illustrates first the minutiae of sea life, then gradually opens out to a majestic theme. The key mood words for the track are: awe, beauty, mystery, wonder, joy, excitement, majesty.

Here is a guideline to the timings of the sequence:
For the first 20 seconds or so, the focus is on the small, close-up micro events of the marine environment: shoals of fish swimming, crabs scuttling across the sea bed. We may hear first fragments of the theme here.
For the middle 20 seconds, the build begins and the subject changes to dolphins swimming and playing through the water. This section will be more energetic and exciting, and we may hear more hints of the melody to come.
For the final 20 seconds, we will hear the main melodic theme of the track as the shot opens out to a majestic (but not threatening) whale, seen both from under and above the water.
The joins between sections should feel natural and seamless, like we are being taken on a journey. As well as being able to write accurately to a brief, we're looking for illustrative orchestration, and a convincing melodic theme that's used creatively in various forms throughout the track.

Participants will only use the instruments available in Synchron Prime Edition, with no other sound generators or recorded audio files allowed. Contrary to Round 1 of the Vienna Composer Contest, audio plug-ins such as third-party EQ, compression and reverb are allowed.

For this round, participants may send in a first draft and receive feedback from the team at 2nd Foundation Music, before submitting the final version of their track.

The three finalists will be announced on June 1, 2023.
Round 3
June 1 - 30, 2023

Three finalists are now going through to the third and final round, each having won a complete Synchron Package, worth more than €9,000.
 
Here is the brief for this round by 2nd Foundation Music:
 
This track will be written as a production music track, and will make up the first of the six-track album for the winning composer. The first part of the brief is for the whole album, and the second part will be the specific track. For this round, the finalists will be working directly with the 2FM team. They have access to all of Vienna Symphonic Library's products.
 
Album Brief
 
The EP "Filmic Fantasy" will be a large-scale orchestral album, in the style of fantasy films and TV shows with a broad, noble feel. Although there may be an element of magic in these worlds, that isn't the main focus: it's more about epic quests, battles and stories. As the tracks will be for production music usage, the "world" composers are writing for shouldn't be too specific – it should be useable for a variety of scenarios. Expected usage will be commercials, promos and even epic moments in reality TV and documentaries.
 
Track Brief – The Main Theme
 
The final challenge is to write a main theme in the style of a cinematic fantasy film, but tailored for production music. It should be of medium speed and feature a memorable theme. The moods should be: grand, noble, broad, majestic, uplifting, exciting, anticipatory.
 
The track should be between 2'30 and 3' in length and structured as follows:
Introduction - A section main theme debut - contrasting B section - exciting return to A theme - Reprisal of A theme with slight changes to make it more grand - grand finish.
What's next for the winner
The winner of the Vienna Composer Contest will sign a contract with 2nd Foundation Music and, with guidance from the label, write a further five tracks to create a well-balanced, marketable EP. All six tracks will then be recorded at Synchron Stage Vienna, with 2FM creative director Daryl Griffith conducting the Synchron Stage Orchestra. Once released in the fall of 2023, the music will be available as library music with distributors throughout the world, including APM Music, BAM, BMG, Upright Music and Warner Chappell Production Music.
---
Further Details

You can only enter this contest if you do not have, or have never had, a total of more than 10 of your tracks represented within, or across, any of the following catalogs:
 
- APM Music
- Warner Chappell Production Music
- Universal Production Music
- Sony / EMI / KPM Production Music
- BMG
- Audio Network
- Anthem Entertainment
- Cavendish Music / Imagem / Ole / Boosey & Hawkes
- Sonoton
- BAM
- WestOne
- Extreme Music
- Megatrax
Ownership of Tracks

Composers own the rights to all their tracks written for the competition, with the exception of the six tracks written by the overall winner for the EP, which will fall under the terms of publishing with 2nd Foundation Music.

A brief summary of the contract is as follows (only applicable to the winning composer):

Once the tracks have been approved for recording, 2nd Foundation Music obtains the exclusive rights to them. As is standard for library tracks, you have no control over how or where they are used.
You will earn 33.3% of sync and mechanical royalties received by 2FM, and 100% of the writer's share of performance royalties
The contract only applies to the tracks that will be on the album and not any of your other work, past or future. You will not be tied into only writing for 2nd Foundation Music.
Click
here
to view the full contract. Only enter the competition if you are happy with the terms of the contract.
By signing up, you confirm that the works you will submit to the Vienna Composer Contest will be your original compositions and will not infringe any copyrights or any other rights of any third parties.
---
Vienna Symphonic Library and 2nd Foundation Music reserve the right to postpone rounds of the competition at any time they deem necessary due to unforeseen circumstances.

Semi-finalists, finalists and the winner will be notified by email, their works will be posted on the VSL website. The 12 semi-finalists will be asked to submit photos and to talk about the contest in online video interviews. Vienna Symphonic Library and 2nd Foundation Music shall have the right to display these photos and videos along with the submitted tracks on their websites and social media platforms.

Salaried and freelance employees of Vienna Symphonic Library and 2nd Foundation Music as well as of their respective distributors, and their family members and persons living in the same households of such employees, are not eligible to enter.

By signing up to this contest, you agree to abide by the rules stated on this web page and understand that you will forfeit any prize and/or benefit awarded to you should you violate any of these conditions.